Warriors Together alumni volunteer program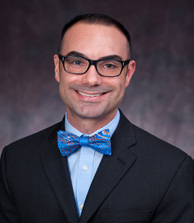 At Wayne State University, alumni are some of the most passionate and engaged members of our community. The Warriors Together alumni volunteer program was created to support that passion by connecting you with opportunities that help advance Wayne State's priorities while making a meaningful impact in the university community.
The Warriors Together program is focused on creating a personalized experience for each volunteer. Opportunities are organized by four unique focus areas that reflect Wayne State's mission, vision and values. As an alumni volunteer, you will work one-on-one with a volunteer coordinator to connect with opportunities that fit your individual interests, strengths and schedule.
I hope you'll join us as we come together to make a difference at WSU. No matter how you choose to participate, donating your time as an alumni volunteer is one of the most valuable ways to give back to your alma mater.
Start by signing up to become a volunteer and connecting with our program coordinator, who will help you create a personalized volunteer plan. I look forward to all that we will accomplish together.
Sincerely,
Peter R. Caborn
Associate Vice President, Alumni Affairs & Advancement Services
Executive Director, Wayne State University Alumni Association