Wayne State is making the most of the season
Celebrate summer with the WSU Alumni Association! Join us during the week of July 22-25 from 6-8 p.m. at locations across the state for complimentary refreshments, casual conversation and plenty of fun. Each stop offers a unique taste of Michigan — choose one or follow us across the state and attend them all! 
President M. Roy Wilson will be stopping in at each event as part of his annual Road Warrior Tour, a 450-mile cycling journey across Michigan.
Traverse City | Monday, July 22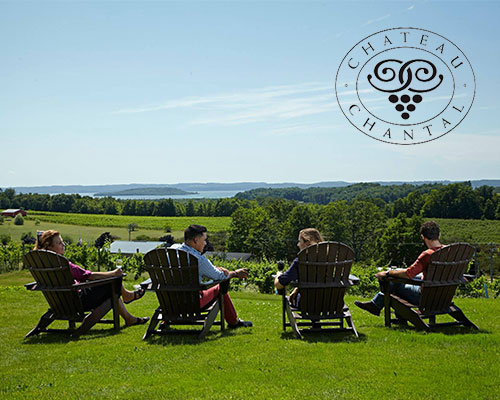 Chateau Chantal Winery – Marvel at the sweeping views from majestic Old Mission Peninsula while sipping a glass of Pinot Grigio. Your Chateau Chantal experience will include a tour of this iconic winery as well as gourmet hors d'oeuvres paired with — of course — a selection of fine wines featuring grapes grown in the surrounding vineyards. 
Ludington | Tuesday, July 23
Ludington Bay Brewing Co. – Carefully crafted on the shores of Lake Michigan, Ludington Bay beer tastes just like summer. Pull up a stool and savor locally sourced appetizers alongside a pint of perhaps Lake Phantom Tangelo Dream or Tan Line Blonde Ale. Don't miss the behind-the-scenes brewery tour to see how hops and malt combine to create a mug full of magic.
Midland | Wednesday, July 24
Midland Center for the Arts and Dow Gardens – This experience begins at the Midland Center for the Arts, where you'll reconnect with fellow alumni and make new friends over refreshments in the beautiful landmark facility. From there, enjoy a self-guided tour of the adjacent Dow Gardens, featuring a dazzling display of flowers, water features and art exhibitions. 
Rochester | Thursday, July 25
Rochester Mills Beer Co. – As the Summer Event Series winds its way back toward Detroit, join hometown Warriors in quaint Downtown Rochester to toast Michigan's finest season. You'll enjoy eclectic American cuisine and frosty craft brews in the historic Western Knitting Mill building, beautifully renovated to preserve the original woodwork and charm.