Detroit Feedback Loop helps feed those in need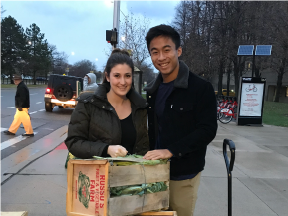 The Detroit Feedback Loop (DFL) was created by Wayne State University students Nicholas Ang and Camilla Cascardo. Ang and Cascardo recognized an opportunity to help the local community and address the amount of food waste being created on campus each day. With the DFL, excess food is donated to homeless shelters throughout the city.
In celebration of Wayne State University's 150th year, the Alumni Association is holding a series of Presidential receptions across the country. An important element of these events is a student panel that bridges the gap between alumni and current students. Nicholas Ang and Camilla Cascardo are both active volunteers within the Alumni Association and will be featured guests on the student panel in select cities.
--
Read Student organization provides solution for excess food waste
Two Honors students have come up with an answer to the age old question: What to do with all of that excess prepared food from campus events?
Juniors Nicholas Ang and Camilla Cascardo have the answer – call the Detroit Feedback Loop.
Ang, a Psychology major, and Cascardo, a Psychology and Biological Sciences double-major, teamed up to form the Detroit Feedback Loop (DFL) – a student organization with the goal of gathering excess prepared food from different restaurants on campus and in the surrounding community and delivering it to local homeless shelters and soup kitchens.
The idea started when Ang and Cascardo were sitting in Tower's Café watching all of the leftover food go back to the kitchen on the conveyor belts. "Towers has a lot of advertising for trying to reduce food waste, but when we saw the food on the conveyor belts, there was tons of waste," Cascardo said. "So we were like, what can do we do to stop this?"
Read more from honors.wayne.edu