A hymn to history: '68 Men's Glee Club shares special reunion
Some of Wayne State's finest voices reunited this spring to share memories, celebrate their history and, of course, sing a few tunes.
1968 was a milestone year for Wayne State, as the university celebrated its centennial anniversary, but it also was a momentous time for the Men's Glee Club. Led by renowned conductor Dr. Harry Langsford, the club had embarked on its third European concert tour. Over more than six weeks, they performed in churches, cathedrals and concert halls across Scandinavia, Germany and the United Kingdom, culminating in a competition at the International Musical Eisteddfod in Wales.
Widely considered the "Olympics" of choral and folk music festivals, the competition saw the '68 club go against 16 other male choruses from around the world to ultimately claim first place in the men's chorus division. It was the first Eisteddfod victory for Wayne State, the first for any group from Detroit, and the first of three wins at the festival for Langsford.
Detroit Free Press Columnist Bob Talbert described the feat at the time: "The Wayne State University Men's Glee Club showed the International Musical Eisteddfod in Wales that there's more to Detroit than the Motown sound by winning against all European comers — a feat comparable to an English rugby club polishing off the Green Bay Packers."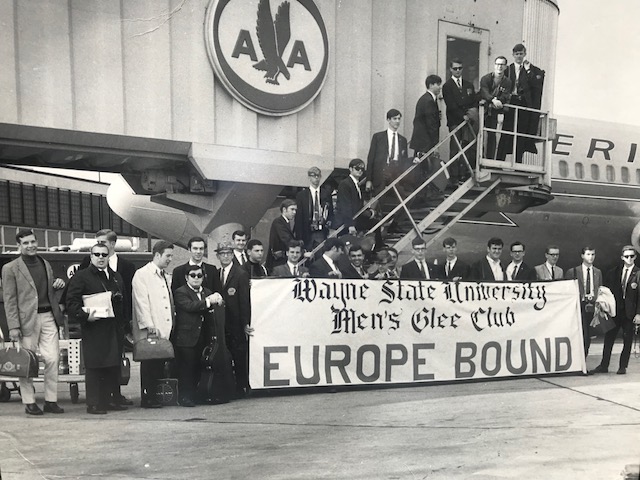 "It was such a high-level, world-class experience for us," said Monte Jahnke '68, J.D. '74, president of the Men's Glee Club. "Many of us were first-generation college students, so Wayne State opened up many new horizons for us, both academically and through the glee club. That experience provided a level of cultural exchange that a kid from a blue-collar suburb wouldn't have otherwise had. It was a tremendous step in my life, and I'll always be grateful to Wayne for that."
Jahnke also recalled the support they received from the university during the centennial year. Former WSU President William R. Keast was a fan of the club and helped them secure a grant for the European trip. The university also sent along a public relations director and photographer to document the journey. "They made it possible for us to plan what was a spectacular opportunity," he said.
Nearly one year ago, with the 50th anniversary of the first-place European tour on the horizon, Jahnke decided to get the club back together. Of the original 43 men who travelled and competed in Europe during the summer of 1968, he found that 10 had passed away and others were "M.I.A."
On a sunny spring afternoon, 20 men from the '68 glee club gathered for a reunion in Orchard Lake, Michigan, some travelling from California, Florida, Texas, Arizona, Wisconsin and Maryland to be part of the celebration.
"It was so gratifying to see these guys come back together to celebrate," Jahnke said. "It was a little tedious trying to track everyone down, but it was a labor of love and I really enjoyed it."
The reunion was hosted by the Langsford Men's Chorus
, founded in 1999 by six Wayne State alumni to honor their esteemed conductor. Langsford founded the Wayne State Men's Glee Club in 1945 and ran it for more than four decades. The Langsford Men's Chorus now comprises 45 alumni from different universities who share similar experiences under his leadership.
"He was like a father figure to a lot of us," said Steve SeGraves '86, who co-founded the group.
Together with the Langsford Men's Chorus, alumni from the '68 club were also joined by 10 members of the current Men's Glee Club, led by Dr. Noah Horn. With nearly 80 singers, the group performed five songs, many of which were sung on the '68 European tour.
"Reliving those memories was very special," Jahnke said. "Many people told me that day if it weren't for those experiences in the Glee Club, their lives would be much less fulfilling. I think I'd have to agree."