Warrior pride in NYC
As one of the more than 4,000 Wayne State alumni living and working in the NYC area, you are part of a network of people who share your green-and-gold pride. Make personal and professional connections today through the Wayne State Alumni NYC regional network.  
Update your info     Join us on Facebook    Submit a class note
Upcoming events     NYC event pics     Questions?
---
NYC Volunteer Leader
Volunteer Leaders are enthusiastic, involved alumni focused on galvanizing alumni spirit and participation within their regional network. In addition to being the regional network's social media ambassador, Volunteer Leaders serve as the primary contact for area alumni and as the point person for local events and philanthropic activities.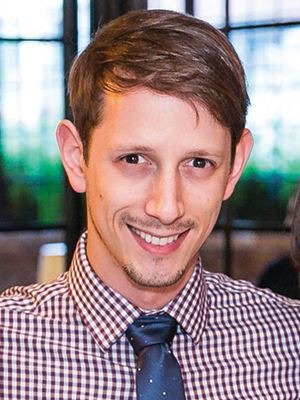 Bobby Lima, M.F.A. '13
Bobby says his WSU degree has helped him open doors, adding that when people see you have a master's, they take you more seriously. He currently works for PR firm Joelle Frank NYC, and says, "Keeping in touch with people is extremely important. Knowing the right people and networking is key when it comes to the professional world. I love meeting people, and hearing their stories and similar WSU experiences. You never know who you will meet at a WSU alumni gathering."
Jessica Laus, '11 
A development professional and community organizer, Jessica grew up on the east side of Detroit, earned a bachelor of arts from Wayne State, a master of science from the London School of Economics and currently lives in Newark, New Jersey. "I love the diversity of New York, the relative anonymity and the fact that there is always something to do, no matter your interests. And while I love New York, I'm always happy to come back to Newark, which reminds me of Detroit and where I'm happy to call home."
Get in touch with your Volunteer Leaders.
---
Have questions or want to help? Contact Mackenzie Friedman to find out how to get involved.