Warrior pride in LA
As one of the more than 5,000 Wayne State alumni living and working in the LA area, you are part of a network of people who share your green-and-gold pride. Make personal and professional connections today through the Wayne State Alumni LA regional network.
Update your info     Join us on Facebook    Submit a class note
Upcoming events    LA event pics    Questions?
---
LA Volunteer Leader
Volunteer Leaders are enthusiastic, involved alumni focused on galvanizing alumni spirit and participation within their regional network. In addition to being the regional network's social media ambassador, Volunteer Leaders serve as the primary contact for area alumni and as the point person for local events and philanthropic activities.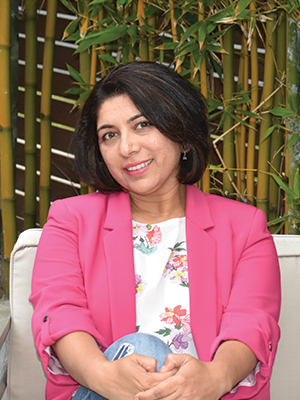 Komal Shah Kapoor, M.A. '02, Ph.D. '07 
Fueled by two degrees from CFPCA, Komal has more than 12 years of national and international corporate experience in marketing, qualitative consumer research, brand strategy, health care market research and entrepreneurship. In addition to being an educator and a practicing anthropologist, she is the founder of Speaker Post, a networking platform that connects guest speakers with educators. She lives in Manhattan Beach and says, "I have been mentoring students for several years now. I am always looking to touch a life, and to make a difference. As our LA alumni network grows, I would like to help provide more opportunities for new graduates to meet with other alumni in Los Angeles."
Get in touch with your Volunteer Leader.
---
Have questions or want to help? Contact Mackenzie Friedman to find out how to get involved.